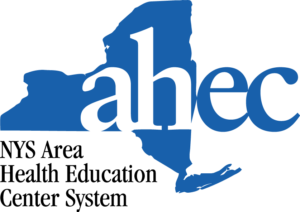 Connecting students to careers, professionals to communities, and communities to better health

The New York State Area Health Education Center (NYS AHEC) System is dedicated to increasing the supply, distribution, and diversification of qualified healthcare professionals throughout the state.  Read More...

Shannon Carlin-Menter, Director of Evaluation at NYS AHEC, along with collaborators Dr. Stephen Koury, Professor of Biotechnical and Clinical Laboratory Sciences at SUNY Buffalo, and Anna Gossin, SEPA Project Assistant, were awarded a grant to organize a conference in Spring 2018. The conference, titled "Enhancing the STEM Pipeline through Bioinformatics and Genomics," will target SUNY and non-SUNY faculty in Biology, Biotechnology, Biochemistry, Biomedical Engineering, Life Sciences, as well as Science Educators  with an active role or interest in Bioinformatics and Genomics course development. More information on the conference will be forthcoming!